Welcome to Girlfriend Collective
We believe good things come to those who don't waste.
We believe in ethical manufacturing and recycled materials. Because old water bottles and fishing nets look better on you than they do clogging landfills and polluting oceans.
We believe health and wellness come in many shapes and sizes, and that representation matters.
We believe in being transparent, taking care of the people who make your clothes, and never putting our bottom line before what's best for the planet.
We're Girlfriend Collective, and we're glad you're here.
Sustainability FAQs
Is everything eco-friendly?
We're like the earth's number one fan, so being eco-friendly is at the top of our priorities, as is giving you as much information as possible. Here's a breakdown of each of our products and how it stacks up.
Packaging: Our packaging is 100% recycled and recyclable, so don't throw it away!
Clothing: Our clothes are made from recycled materials like post-consumer water bottles, fishing nets retrieved from the seas, fabric scraps, and other waste. You can find the breakdown of each product's makeup on the product page.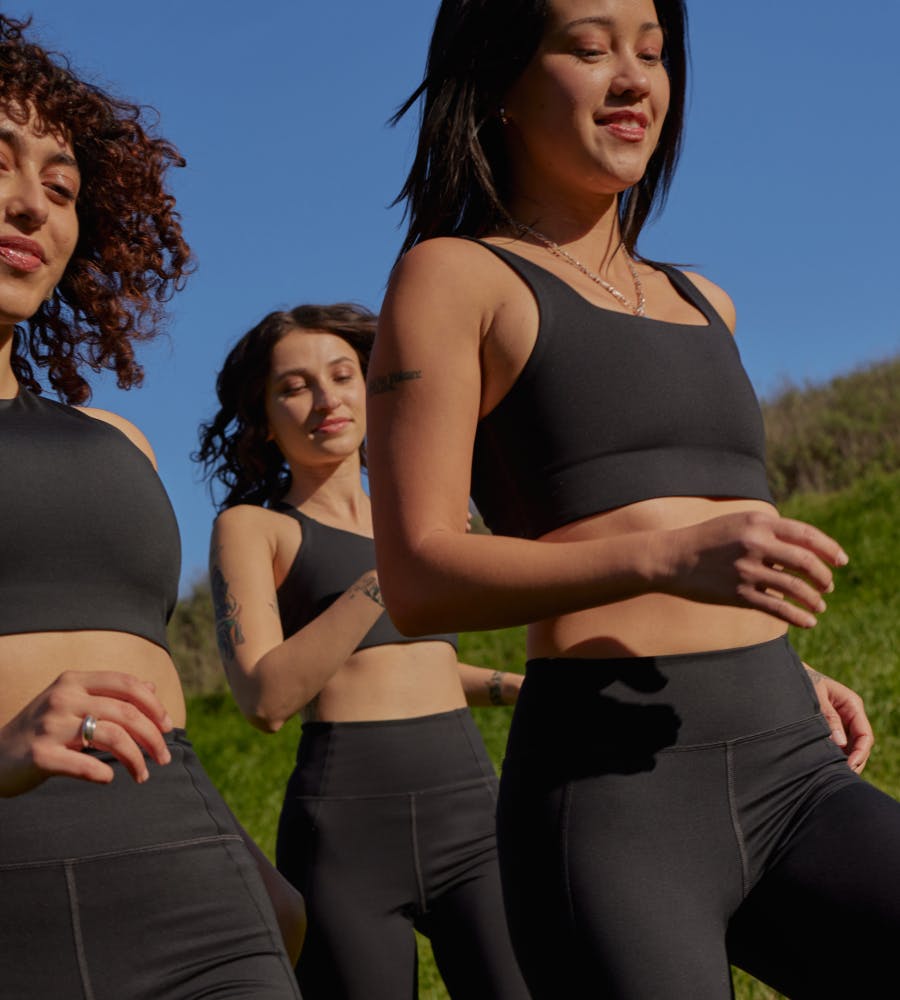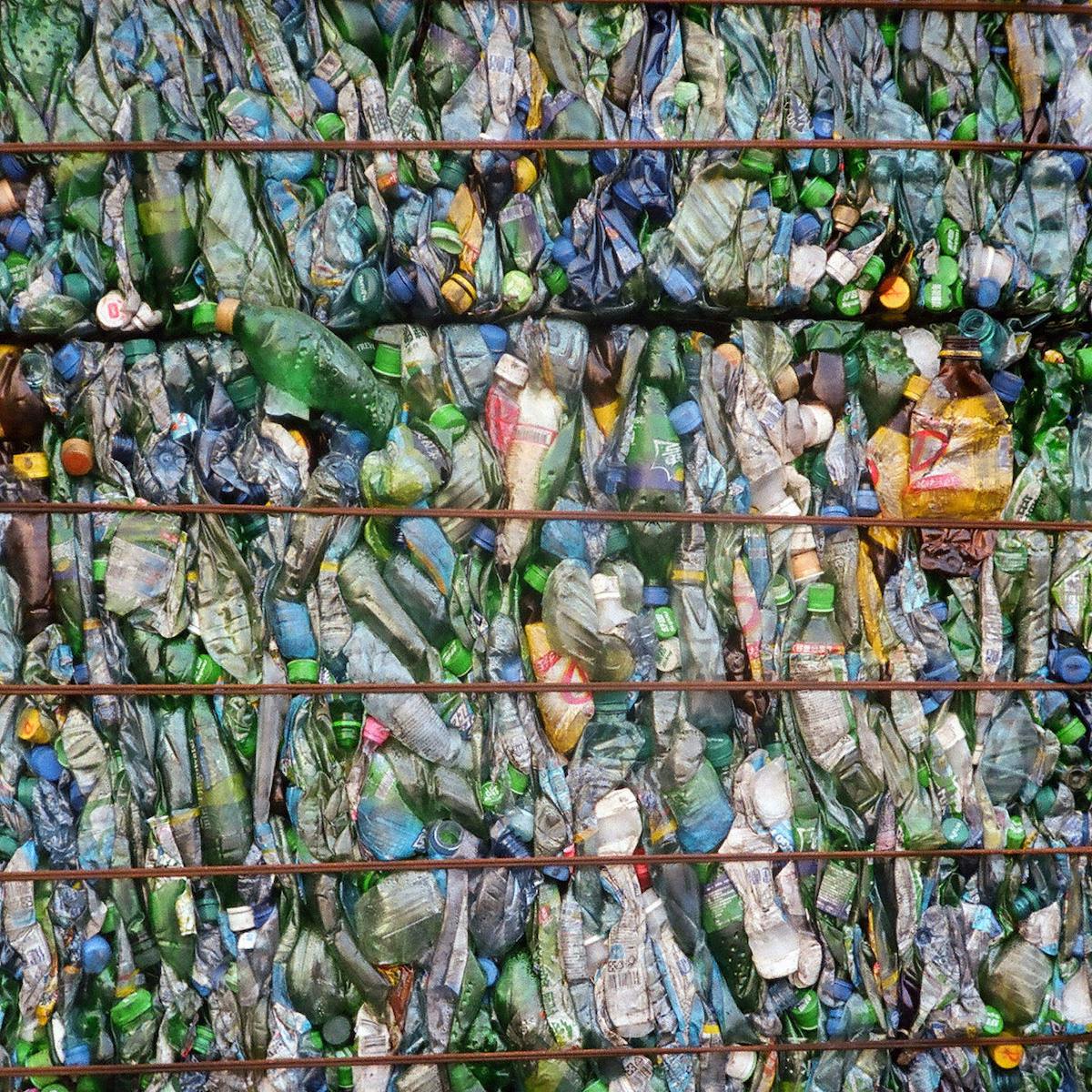 How do you turn old water bottles into clothes?
Did you know almost all synthetic activewear is made from plastic? We just make ours with materials that would otherwise clog landfills and pollute the earth. It all starts with post-consumer water bottles that have their labels removed, are crushed into billions of minuscule chips, and then washed until they're sparkling clean. 
After a bunch of science stuff with names like "polymerization," you get a soft, recycled yarn that eliminates the need for petroleum and diverts water bottles from landfills at the same time.
Where do you manufacture?
All of our textiles are made from recycled materials in various facilities across the globe. Our primary recycling partner in Taiwan specializes in eco-friendly and high-quality textiles, while our core sewing partner in Vietnam is SA8000 certified, guarantees fair wages, and always ensures safe and healthy conditions. All of the factories we work with are verified by third parties and have certifications like SA8000 and WRAP.
What's SA8000?
SA8000 is a social accountability standard and certificate developed by Social Accountability International (SAI). They created this certification to help and protect workers worldwide by providing a standardized guideline to protect the integrity of workers' conditions and wages. SA8000 overlaps with Fair Trade certification, but while Fair Trade is predominantly used for farming, SA8000 is a certification used in factory conditions.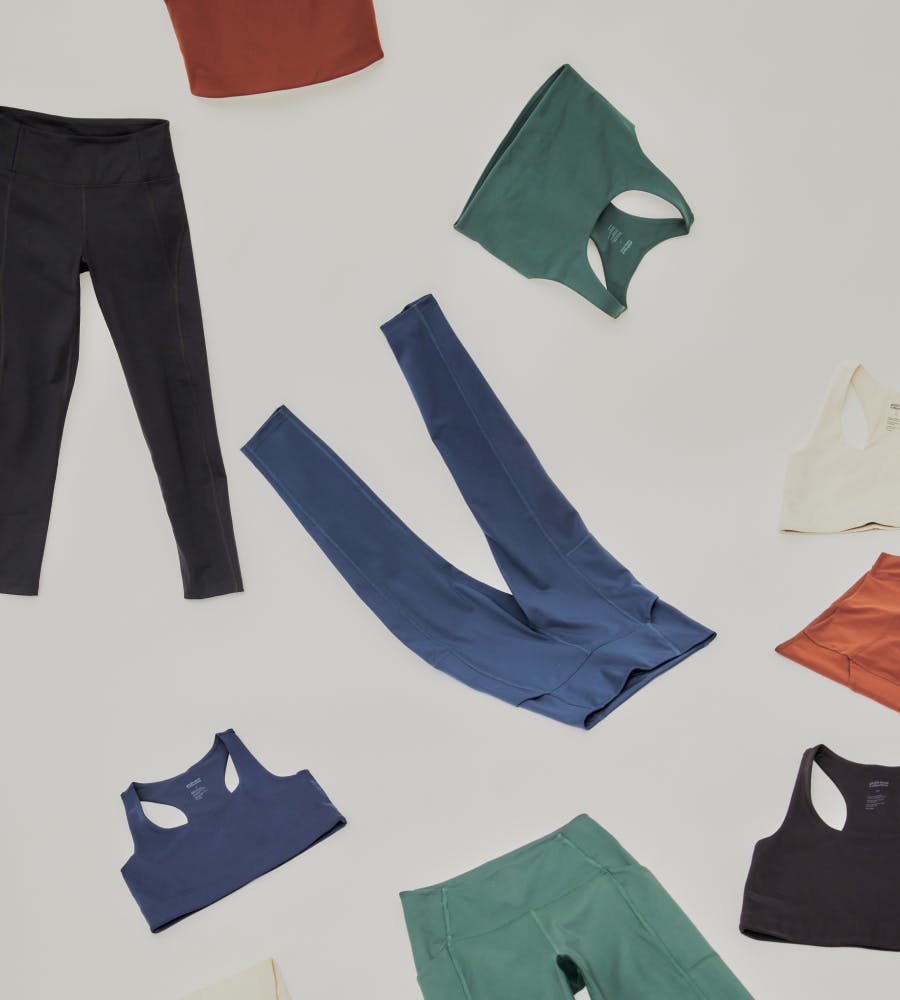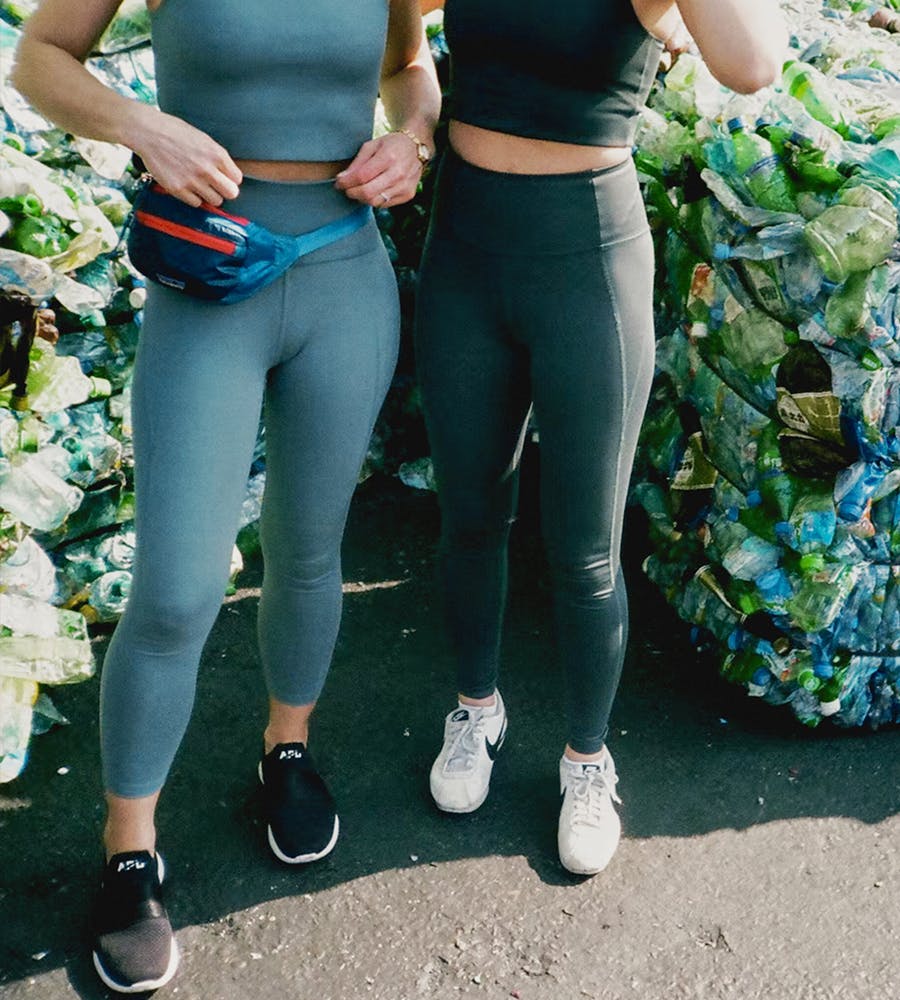 How do you choose your partners?
We look for partners who share our values — people who believe in sustainability, ethical manufacturing, and making the very best product you'll love for years to come. You may not know it, but a lot of the best manufacturers for high-performance fabrics are located overseas. We know — we looked. The United States has great manufacturers for basic knitwear, but for our premium activewear the best machines up to the challenge were in Vietnam. Quality is everything to us, and we wanted to make sure we gave you the best product at the best price that you could find.
How do we know you're really fair-trade, and using recycled fabrics?
We want to be as transparent as possible, so we're happy to share our certifications with you.
Our factory is SA8000 certified (view our certification here). This certification promises that our operation adheres to those super strict regulations that keep factory employees well-paid, safe, and living healthy lives.
Our recycled fabric is certified Standard 100 by Oeko-Tex, the world's leader in testing fabrics to regulate harmful substances. They make sure every fabric's origin and contents are totally upfront, so you know exactly what you're putting on your body. See our certifications here.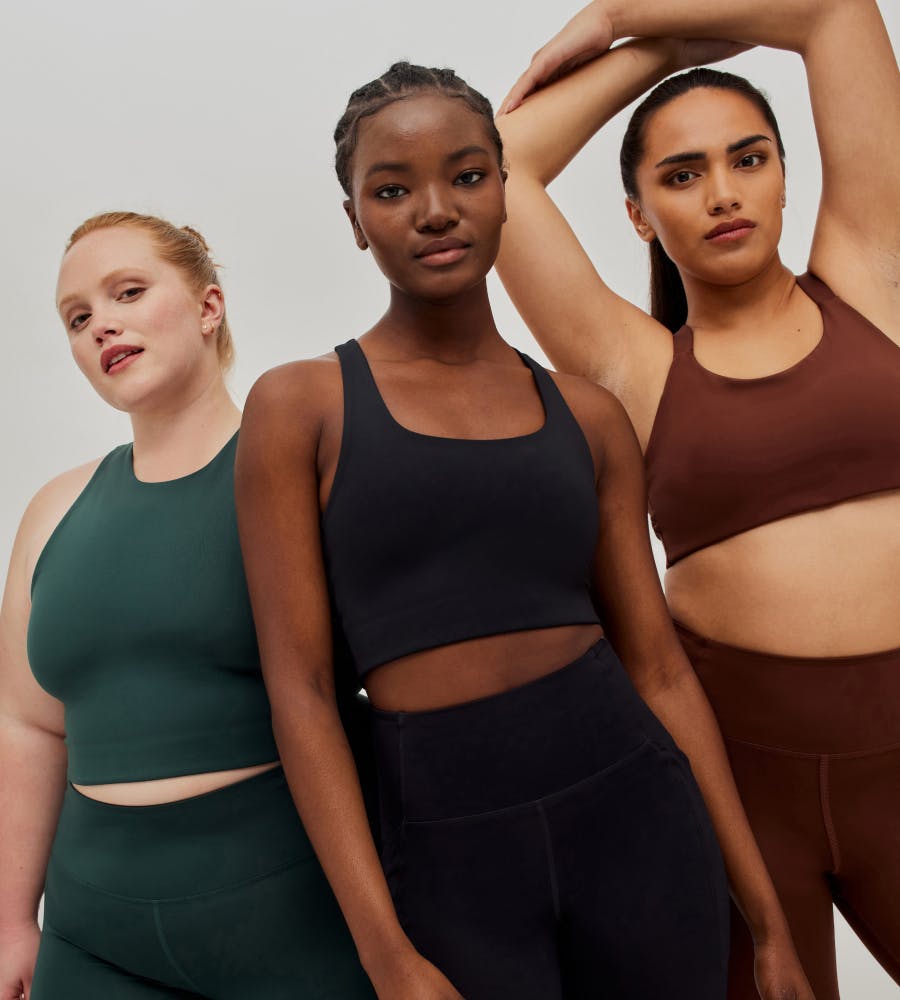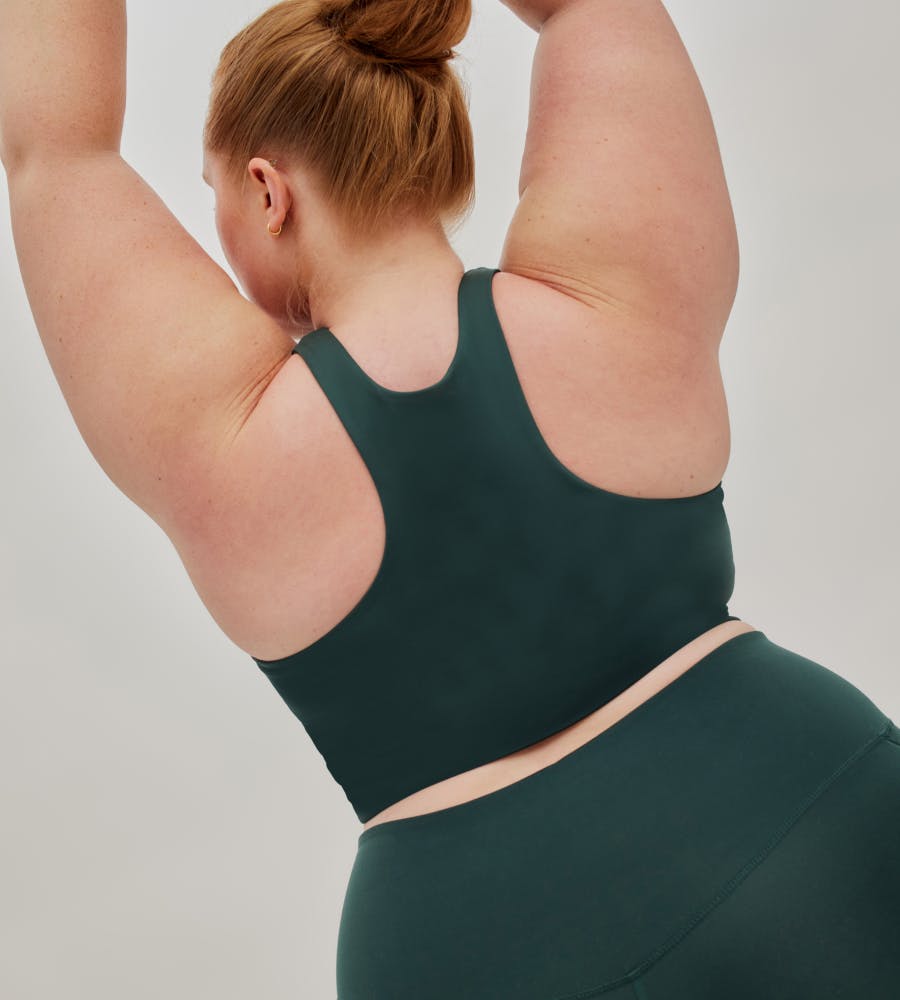 Is your recycled polyester BPA free?
Yes, it is. We understand why you'd want to check because there is a lot of confusion about what kind of plastic is floating around (pun very much intended), so let's talk about it. Plastics that contain BPA are polycarbonates, or the type of plastic specifically used in reusable water bottles. 
Our recycled PET is polyethylene terephthalate and is used in single-use water bottles and food containers. This type of plastic has been repeatedly tested for over 30 years for its safety. We say if it's safe for your sandwich, it's safe for your legs.
What can I do about microfibers?
Did you know all synthetic fabrics shed tiny pieces of plastic called microfibers in the wash? (It's true. Even your favorite cozy fleece, swimwear, underwear, vintage dress, and, yep, Girlfriend leggings.) We recommend washing all of your synthetics in a washing bag or filter.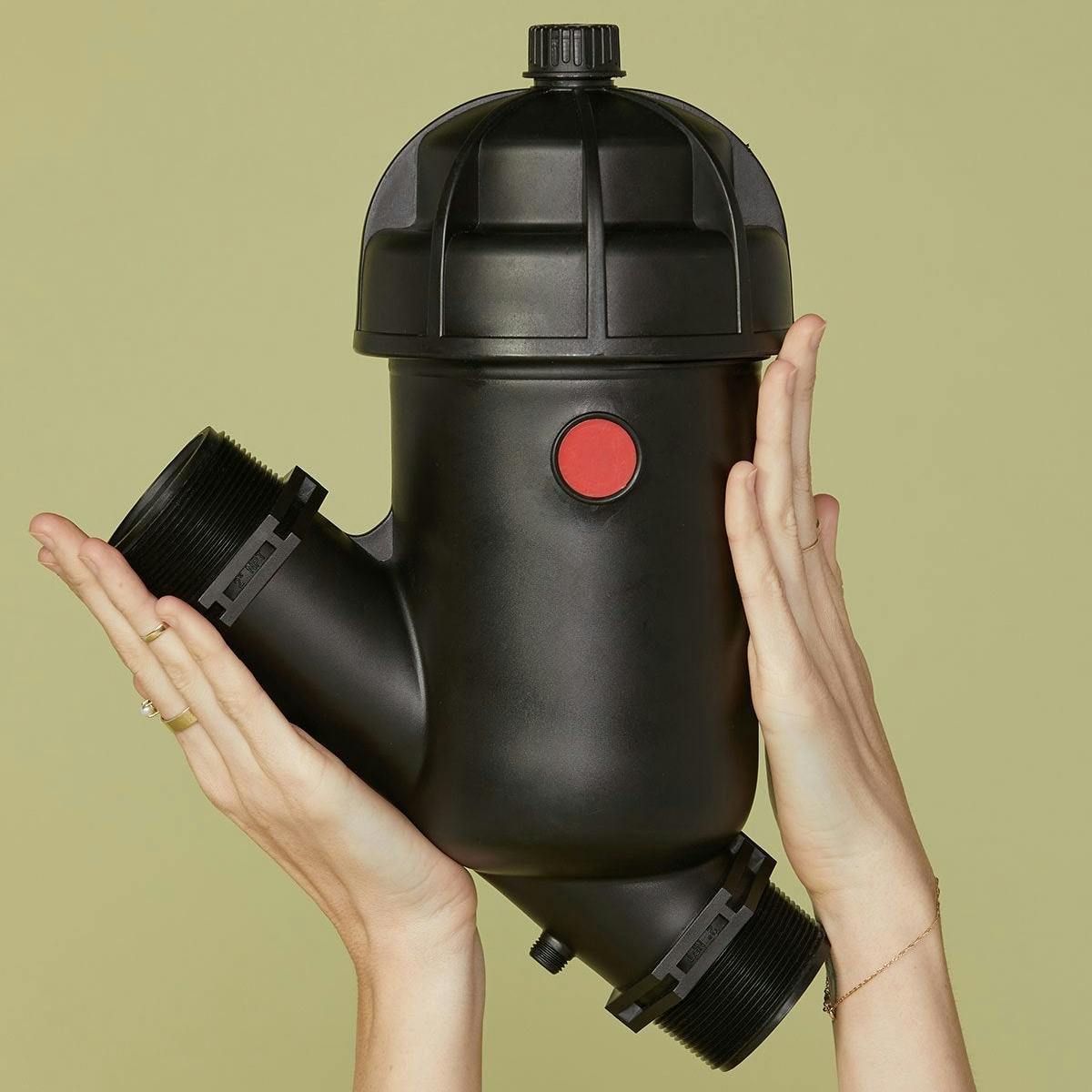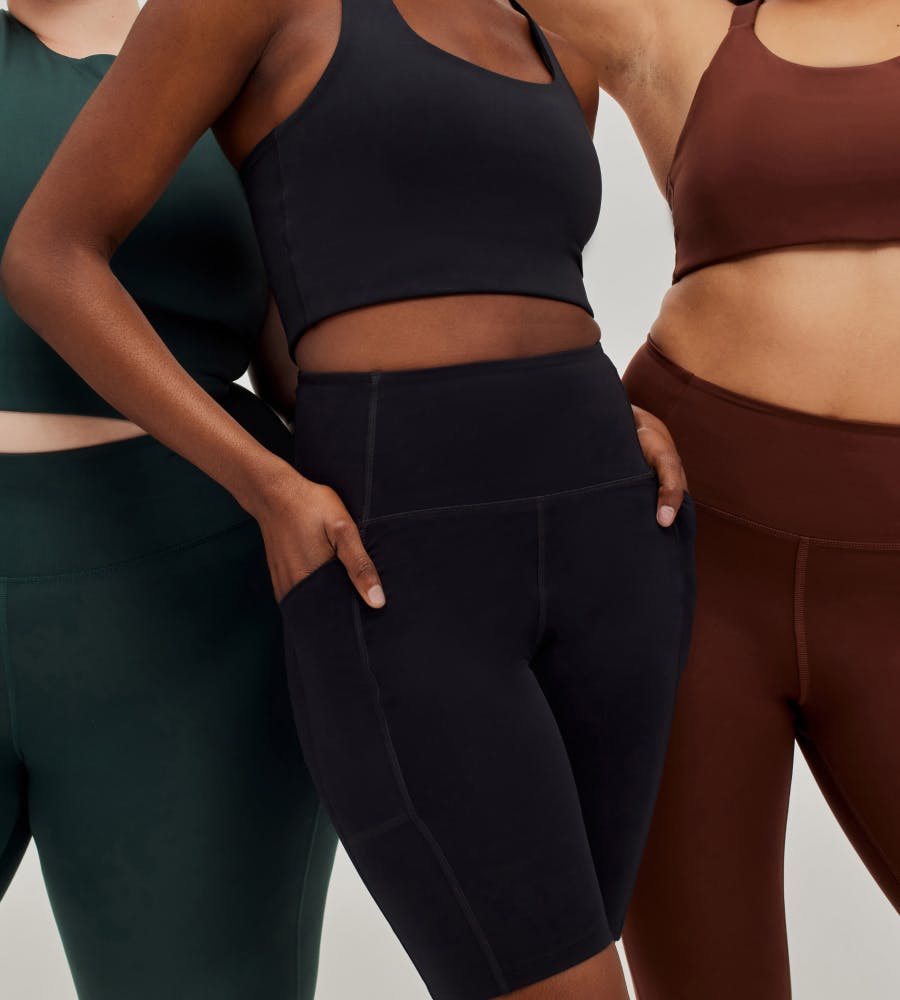 How do you dye?
Our fabric is dyed with eco-friendly dyes and the wastewater is carefully cleaned and cooled before it is released. (We even donate the dye mud to a local pavement facility where it's recycled into sidewalks and roads.)
The unique dyeing process can result in some irregularities in color, which are not considered damages. Please note colors may run at first, so we recommend washing your new leggings separately or with similar colors just in case.
Our Recycled Polyester
Taiwan, where we source all of our post-consumer water bottles, once struggled to clean up mass amounts of waste resulting from rising living standards and soaring consumption. A small island nation of 23 million people, the government saw the danger of ignoring the problem, and through widespread change has transformed Taiwan into a world leader in recycling, with 55% of waste being recycled (as opposed to 35% in the US).
Recycling is a community affair in Taiwan. Each night people gather to sort their waste into containers as a community — recyclables, food waste, and garbage. Rather than leave, they stay and talk until the trucks come and pick it up, turning what could be a tedious affair into a connective one.
Programs and volunteer groups have sprung up all over Taiwan to help bring this community spirit outside of city centers. We spent time documenting the Tzu Chi Foundation, which sets up micro-recycling centers in rural areas across Taipei. Run mostly by retired people, they set up drop-off points to both give people access and education to recycling, and to promote environmental stewardship in their free time.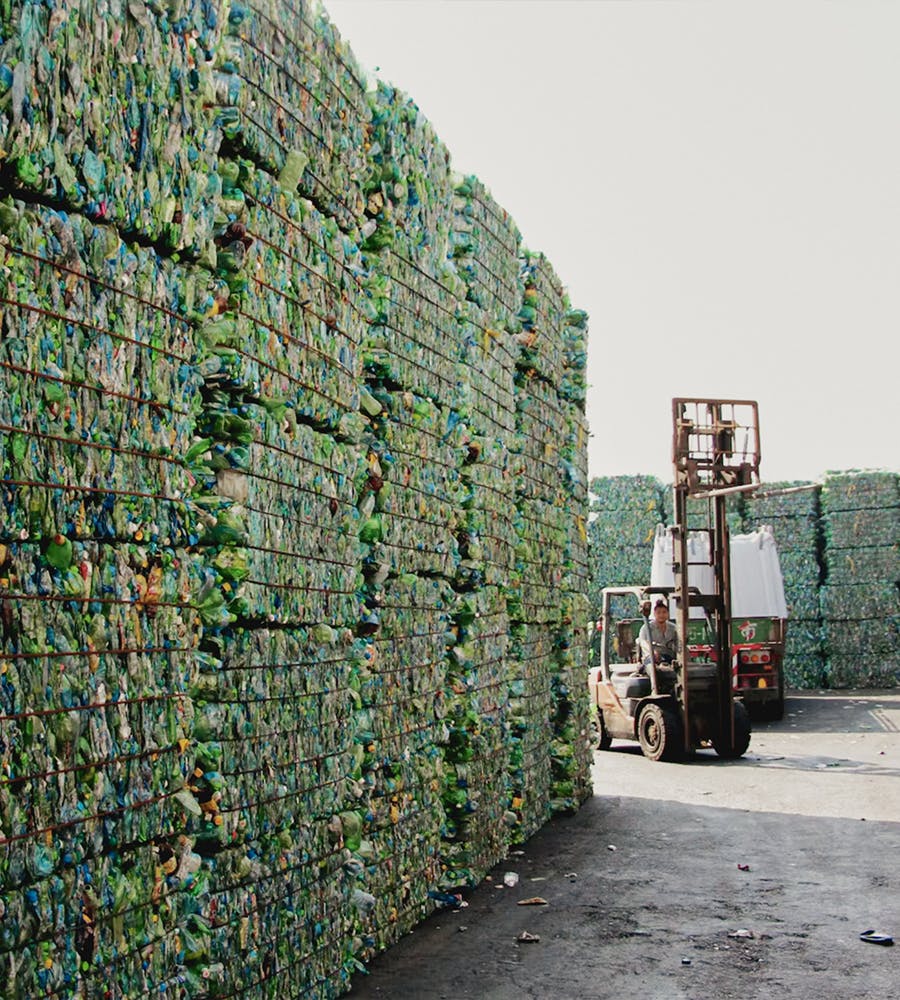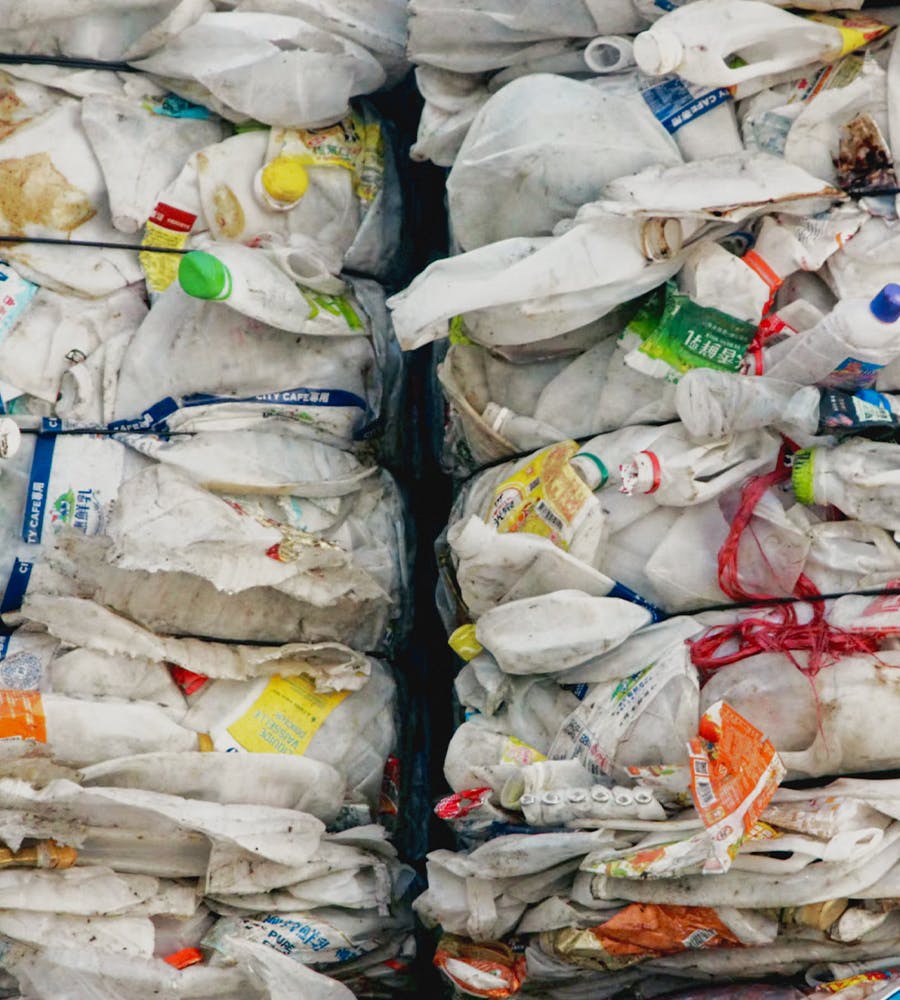 Recycled Fabric Starts Somewhere
After all the bottles are sorted into their respective categories (#1, #2, #3, and #4 plastic), they are sent to their processing centers. Our leggings and bras are made from #1 plastic - or Polyethylene Terephthalate, also known as PET. Fun fact: All polyester (recycled or not) is derived from this type of plastic.
Our bottles are sorted, cleaned, and chipped into feedstock at the center. Our processing center is pretty special. It's owned by a respected Taiwanese family that has been at the forefront of the recycling industry for decades.
We visited the facility and were blown away by what we learned. It's not only trusted by the Taiwanese government, it's certified by them too. Being government-certified means more than just having a certificate hanging on your wall saying that you can process plastic to resell. It means security measures are implemented and each facility is subject to accountability for how much plastic is taken in and how much is shipped out.
Why is being certified so important?
It is a well-known fact in the recycling industry that in places like China with loose certifications and accountability standards, many will lie about where they get their plastic. It's actually much easier to buy new plastic water bottles and recycle them, than to collect and sort post-consumer bottles. Often, recyclers will recycle brand-new bottles as post-consumer bottles and sell them at a higher price to brands that are trying to use recyclables in their products. Gross.
At our facility, we have watched as bales of post-consumer bottles from all over Taiwan arrive at the facility. Each bale is weighed and logged. From there, the bales go into a steam wash to remove caps and labels. After the caps and labels are removed, the bottles are sorted by color. We use the clear bottles for our fibers, and the colored bottles get sent elsewhere to be processed for myriad other uses.
Once the color sorting is done, we shred them down into tiny chips, wash them again, and place them in transport bags to be shipped to our manufacturing facility. Each bag is weighed and logged again to make sure that the output is equal to input. This ensures that we have an accurate count for how many bottles were used and can verify that they were the same bottles processed at arrival.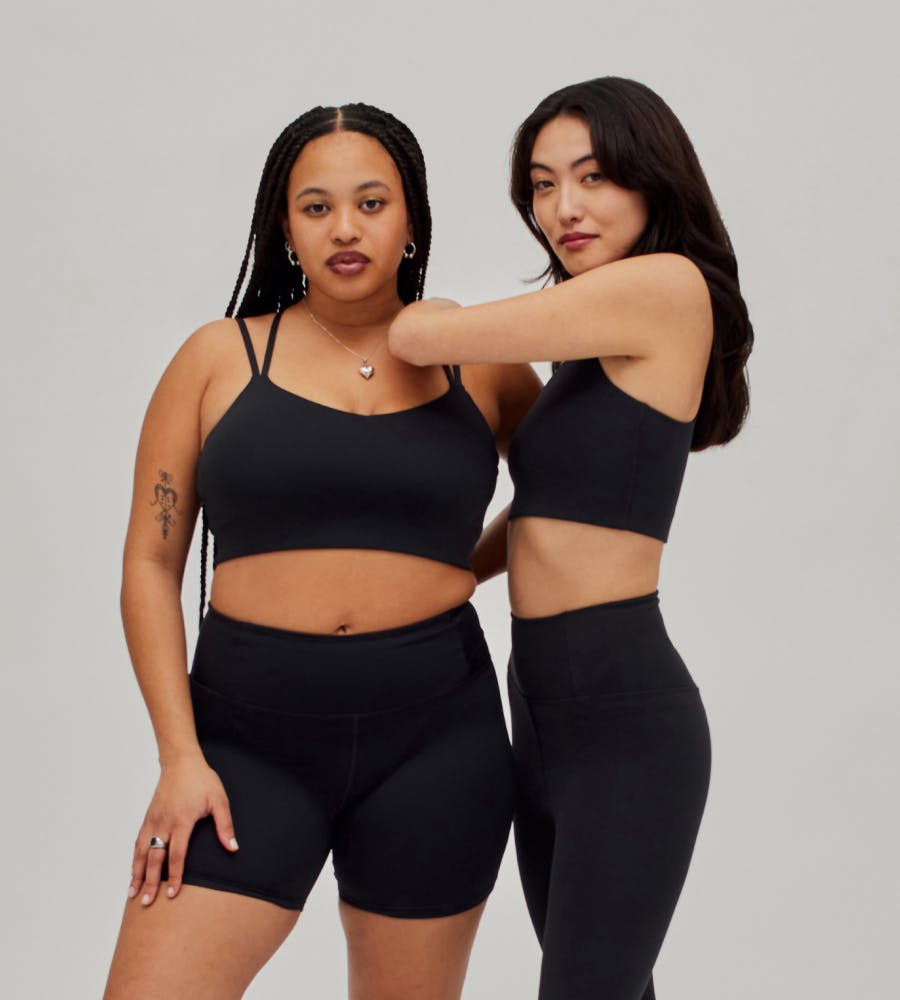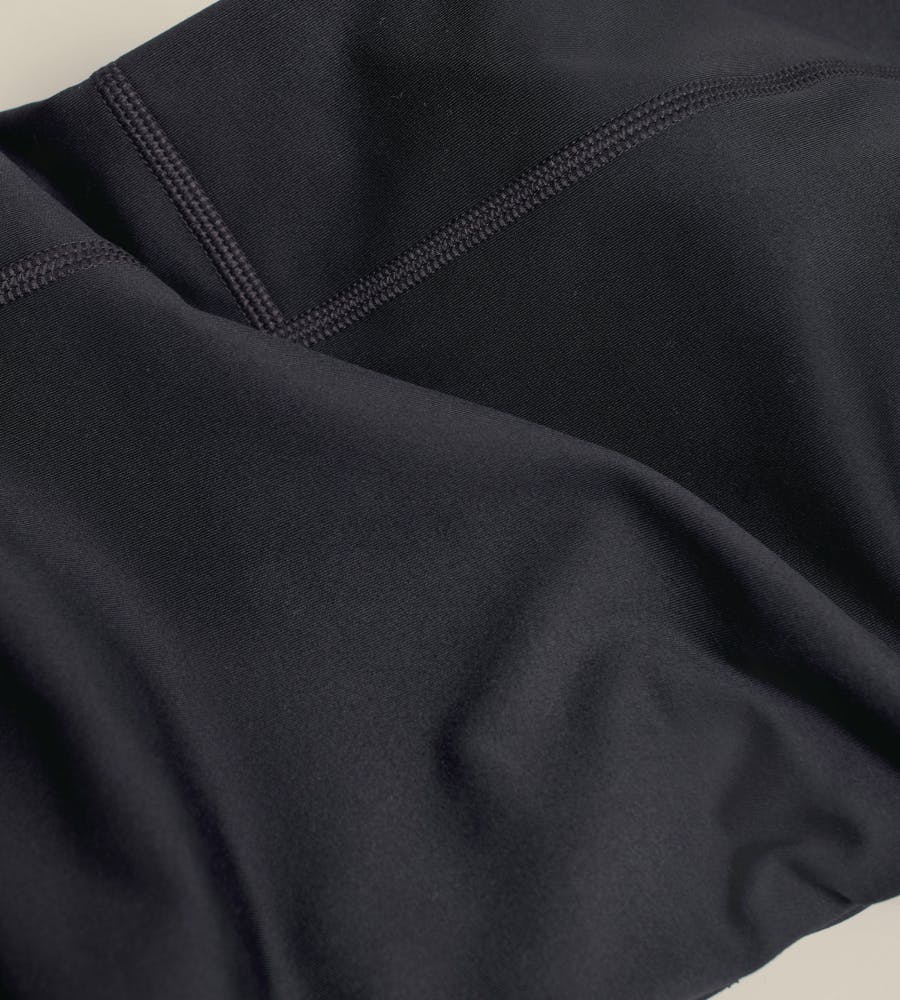 How Our Fabric Gets Made
As soon as our spinning mill takes the delivery of our raw PET chips from the recycling center, the bags of chips go through another wash, and are dried. Once they dry, the chips get sent to storage silos and are sent to a machine where the chips get heated up and extruded into long thick spaghetti like strands. From there, they are chipped down to little pellets.
The pellets then get reheated and are extruded again to make superfine threads that are spun together into our yarn. From there they are spun onto large bobbins, packaged, and sent to our knitting factory.
Our knitting process is unlike almost anything in the industry.
Our fabric is softer and more stable than your standard single-jersey. This process requires time and precision, which means each of our knitting machines can only produce about 100 pairs-worth of fabric in a 24-hour period.
Now that's slow fashion.
Once our fabric is knit, it gets sent to our dye house. Not to brag, but we're going to brag about that, too.
The dyeing process is often environmentally destructive, with many facilities opting for non eco-friendly dyes and chemicals, and choosing to dump wastewater freely into water sources like streams and rivers. If you look at photos of rivers that flow by cities involved in garment manufacturing, you will often notice bright blue or red water that enters the water tables that the community uses. This water not only damages the environment but is extremely harmful to people and crops that depend on their water sources to survive.
Guess what? We weren't into it, so we didn't accept it.
Our facility should be the standard for how wastewater should be treated. Every single drop of water that is used to dye our fabric gets sent to our wastewater treatment plant literally 100 feet away from the machines. It doesn't even have time to think about escaping.
There, the water gets treated to separate out our OEKO-certified safe dyes and stray fibers. When everything is separated, we measure the water to make sure it's safe to release. The devices that measure this are set up to send information in real time to the Taiwanese EPA. With their approval, we discharge the water into a healthy stream where it goes on its merry way.
Most facilities dump dye mud in the landfill, but we decided to get creative. Our dye mud is sent to a pavement facility, where it's transformed to be used for paving stones, making sidewalks better for the community.
From fiber to fabric, we need to look at every step and make sure we know its impact.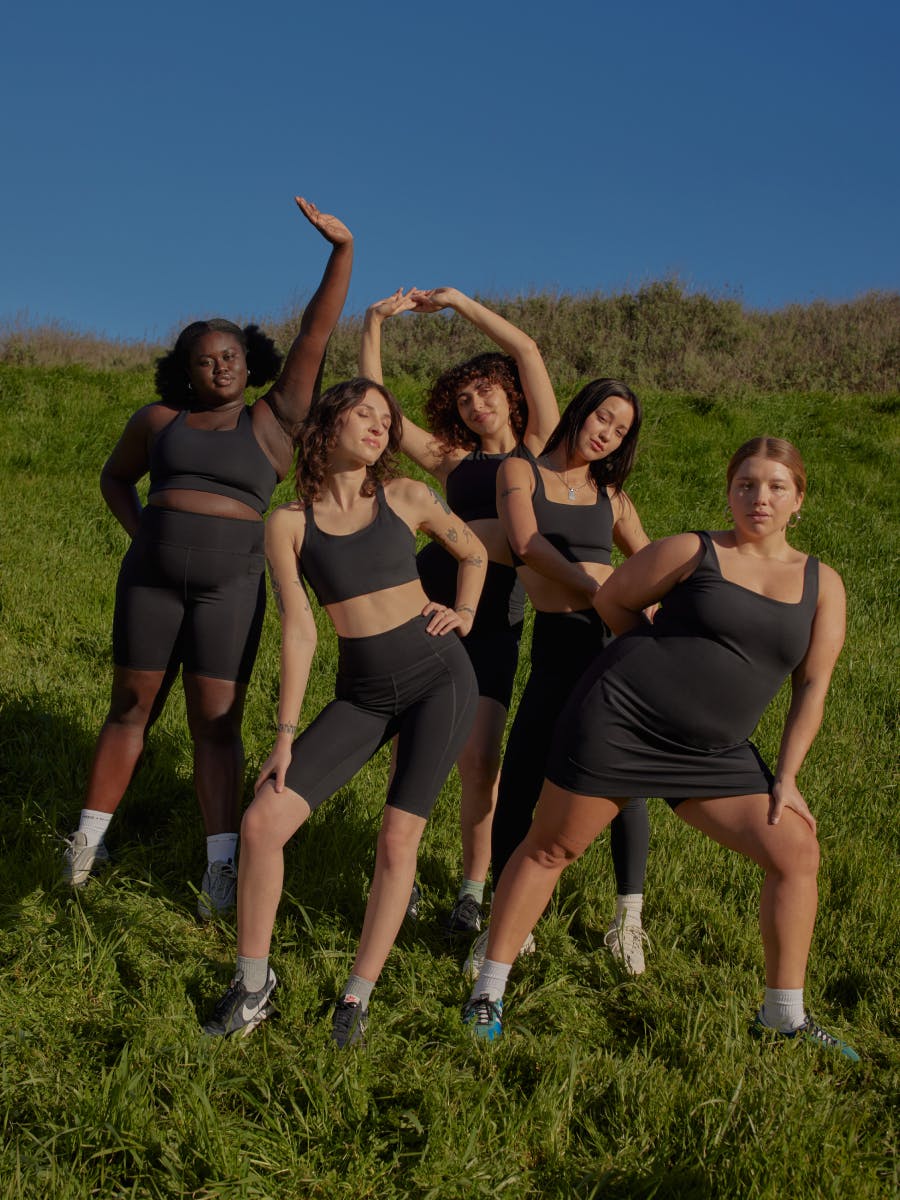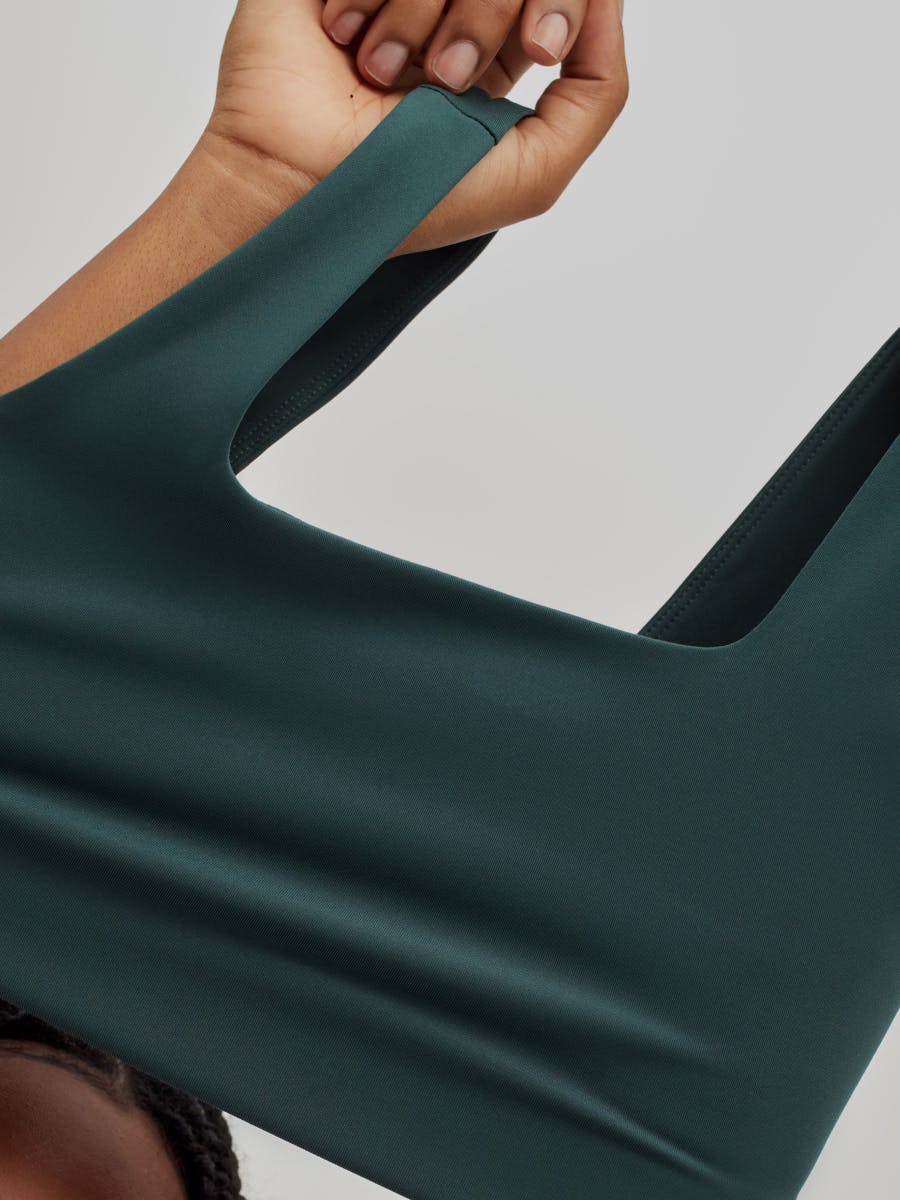 Where We Cut and Sew
Cutting and sewing is the most human intensive part of making clothing, with 14 pairs of hands and eyes making each pair of our leggings. We believe they should be taken care of.
We searched far and wide to find our core factory, an incredible SA8000-certified place that ensures every employee is treated with respect and paid a fair and living wage.
An SA8000 certification guarantees a slew of really important stuff, including no forced or child labor, safe working conditions, and the right to unionize.
These standards should be where every single factory is, because we see it as a perfect platform on which to build. Which is exactly what we've done.
We ensure all workers are paid fair wages, provide both free catered lunch (and dinner for those who work the evening shifts) instead of just a lunchroom, and guided exercise breaks, because no one likes to stare at a desk all day (us included).
While healthcare is often deducted from wages, we decided to provide free health checkups every 6 months at the factory for every employee, as well as health insurance.
We want you to know as much about who we are and what we believe as possible, because the more you look at where things come from, the more you can be invested in where they go. That's why we've included, in full, every bylaw SA8000 puts forth for their certification.
Every factory with an SA8000 certification must be audited regularly to comply with the bylaws included in this document (have fun! It's a doozy!).
The Girlfriend Collective Community's Impact
1% of every Girlfriend Collective purchase is donated to a nonprofit of your choice. Check out the impact the Girlfriend Collective community is making below.
We're so glad you're here.