Deep Breaths
Calming gifts made from recycled materials for all your stretching, meditating, and avoiding-holiday-breakdown needs.
SHOP CALMING GIFTS
ETHICALLY MADE CLOTHING IN SIZES XXS TO 6XL
The Holiday Collection
A sustainable, sweat-wicking collection of limited edition holiday hues. Five wintery colors in all your favorite styles for finding heated workouts, making base layering cute, and meticulously ironing last year's wrapping paper to use again.
Let's Talk Trash.
Trash looks better on you than it does polluting the planet. That's why we turn old plastic bottles, fishing nets and other waste into bras, leggings and shorts you'll never want to throw away.
Girlfriend Impact
There's a lot of trash out there. By choosing Girlfriend, you help divert waste from landfills and support an ethical work environment for the people who make your clothes. Here's a snapshot of what we've done together so far in 2021.
10,430,247
water bottles recycled
10,127,816
lbs of CO2 prevented
19,869,825
gallons of water saved
Close the Loop
Not only do we make our clothes from recycled materials, we take back your old Girlfriend pieces to turn them into brand new Girlfriend pieces. (None of that downcycling business.) We're already used to making new stuff out of old stuff. Now we're making new stuff out of old stuff....out of old stuff.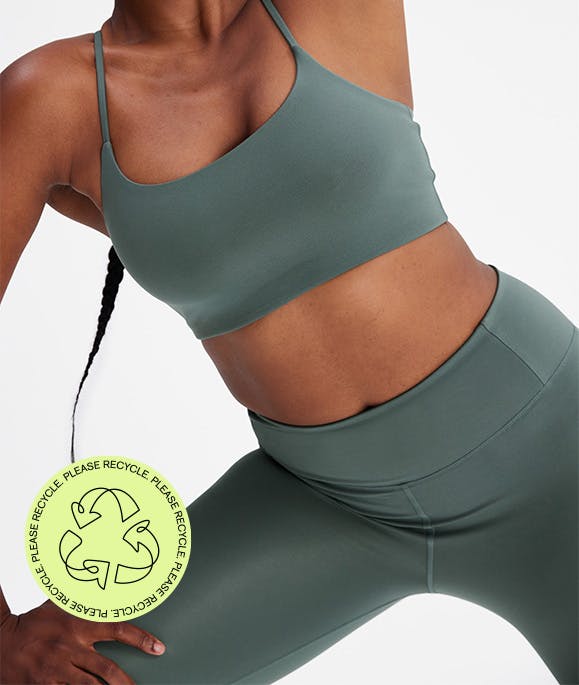 Rips, red wine stains or just ready to part ways? Send us your old Girlfriend pieces to be recycled and get a $15 site credit.
Looks better on you
A bunch of old water bottles have never looked so good.